PAEDIATRIC FIRST AID
 Did you know since March 2015 all nursery workers need to be paediatric first aid trained. Are you a parent or guardian, parent to be, nan, grandad, brother, sister, auntie, uncle? Would you be able to effectively administer first aid to a child in the event of an emergency, At APS Training we offer the following training courses covering the following topics
The aims of a first aider
Accident/incident reporting
Assessing the situation
Primary casualty assessment
Top to toe assessment
Recovery position
CPR
Breathing disorders
Shock
Wounds Bleeding
Head injuries
Seizures
Brakes dislocations
Recent Events (Horror Story)
Baby Millie Thompson 'died choking on nursery lunch', inquest hears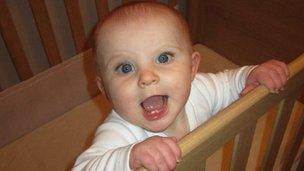 A baby choked to death after being fed shepherd's pie at a nursery, an inquest has heard.
Nine-month-old Millie Thompson started choking while eating lunch at Ramillies Hall School and Nursery in Cheadle Hulme, Stockport in October 2012.
Staff carried out first aid but shortly after paramedics arrived, she went into cardiac arrest and died later.
The inquest is being heard by a jury and coroner John Pollard at Oldham Magistrates' Court.
The hearing was told it was Millie's third full day at the nursery, that she had settled in well and had no special dietary requirements.
She "suddenly started to choke" on her lunch and an ambulance was called, Mr Pollard said.
The inquest was told the nursery supervisor feeding Millie did not have a valid first aid certificate, but a colleague who had the relevant training performed back slaps on her until paramedics arrived.
Millie's mother Joanne Thompson told the hearing that she thought her daughter "was safe that day".
"How she choked on mash, we'll never understand."
Following the nine-month-old's death, her parents set up charity Millie's Trust to promote first aid training in schools.
The organisation also pays for parents to have first aid lessons and offers free classes to new mothers.
The inquest continues.
FACTS
Child injuries are a global public health problem. In 2011, WHO estimates that over 630 000 children under the age of 15 were killed by an injury. Injuries are the leading cause of death, and in many countries the leading cause of death, for children after their first birthday. There is also high morbidity associated with childhood injuries: for every injured child who dies, there are several thousand children who live on with varying degrees of disability. A large proportion of these injuries (for example, drowning, burns, falls) occur in or around the home.
Every day, 1000 child deaths could be prevented by proven injury prevention measures. For every child who dies from an injury, many more are left with lifelong disabilities.
The first world report on child injury prevention discusses the five most common unintentional injuries to children and teenagers that cause death, as well as ways to reduce rates of injuries and save lives.
PAEDIATRIC FIRST AID IS NOT YET MANDERTORY BUT HOPEFULLY SOON WILL BE TO HELP PREVENT DIASTERS LIKE THIS FROM OCCURING!
ARE YOU PREPARED? BE PREDPARED!
YOU WILL NEVER KNOW WHEN YOU NEED IT.
Courses Available now!! For directions to us visit APS Training Google Maps